Greetings from Sweden. Those of you who follow this blog or have read "The Necessity of Strangers" know that I regard travel as one of the most remarkable ways to learn new things and stretch our thinking about how to reach our full potential as individuals and organizations. So during the next couple of weeks I will try to share some ideas, insights, and observations from my latest visit to the land of Vikings, Volvo, Skype, Spotify, and marinated fish. But before I get started it is worth noting that not everyone here in Sweden is blonde. Granted there are a lot of blonde Swedes, but many Swedes who have been here for countless generations have dark hair and there are a growing number of immigrants moving here from a wide range of not particularly blonde places. People who are bringing with them new ideas as well as new traditions, languages, religious preferences, music, foods, spices, and ways of doing business. It is simply becoming a more diverse place which poses challenges but also brings many new possibilities.
Swedes are really into technology and are innovators in many areas including IT and the internet, telecommunications, transportation, energy efficiency, biotechnology, pharmaceuticals and medical technology, and even defense and aerospace. I use the word "even" in referring to defense and aerospace because Sweden has long prided itself on being a neutral country–a neutral country that creates and provides weapons to lots of non-neutral countries. And the Swedes also have a reputation for being quite concerned with automotive safety. They accomplish this in two ways. One, by engineering cars to be as safe as possible. In fact, for several decades Swedish automakers Volvo and Saab were widely regarded as the safest car brands. And two, by having strict societal pressure and significant penalties for driving under the influence of alcohol. As a result, a percentage of party-goers are automatically designated as non-drinking (alcohol that is) drivers who take on responsibility for driving their beverage-consuming family and friends home. And the hosts of parties throughout the country often provide a variety of special non-alcoholic drinks to make their experience a bit more palatable. On the engineering side the list of Swedish automotive safety advances is particularly long and includes three-point seat belts, side impact protection, car crumple zones, integrated child safety seats, and pedestrian detection systems. And I was struck by two interesting features of my 2015 Volvo xc60 rental car. It turns out that the car has a camera specifically designed to read every speed limit sign and to instantly post the speed limit clearly on the car's speedometer the second that it changes. This helps drivers to stay continuously focused on the speed limit without having to remember the last sign that they passed. It also has self-adjusting high beams that turn themselves on and off when (a) another car is approaching or (b) the lighting environment changes (i.e., when driving into a town or city). This is pretty cool and makes it easier to focus on driving without having to continually be on the alert to turn off the high beams before blinding an oncoming driver. And there are probably a bunch of other things the car can do that I simply haven't discovered yet. It is also worth noting that the highway department in Sweden has the ability to preempt every car radio to provide information to drivers on accidents or road closings along their way.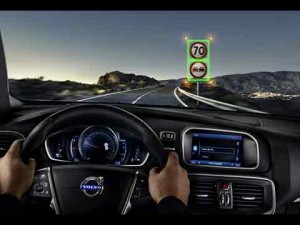 We win in business and in life when we are continually innovating in ways that matter. And when we are all focused on traveling and driving as safely as possible.
Cheers!