Greetings. Some of you have been wondering why I haven't posted in the last few weeks and I have to admit that it wasn't by design. It was actually by accident.
Two weeks ago I had the privilege of being a keynote speaker at the ASAE (American Society of Association Executives) "Executive Leadership Forum" in Lake Louise, Alberta. It was a fantastic event in one of the most beautiful places on earth. It was also a great chance to share and exchange ideas on innovation, collaboration, and employee engagement with a thoughtful and energized group of association leaders representing a wide range of industry and professional organizations. As part of my presentation I asked the audience to be more open and curious about the world around them and all of the remarkable strangers in it. I suggested that we could all learn something important from anyone else on the planet and that the best way to spark new thinking and growth was to step out of the comfortable confines of our workplaces to explore and make new connections.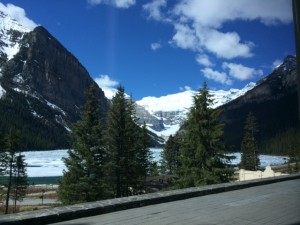 Following this suggestion, I decided to spend a few days after the conference discovering more of this beautiful corner of the Canadian Rockies. A few days to explore breathtaking mountains and glacial lakes that were still covered with snow, climb under a waterfall, hike to a remarkable teahouse, come within a few feet of grizzly bears, black bears with their cubs, caribou, elk, and bighorn sheep, and visit a natural and slightly remote thermal springs by the side of an icy cold river. And in the process, to meet a lot of locals and more fully appreciate the importance of strangers.
And that's where the "accident" part comes in, because on the last day while climbing over some rocks on the way out of the thermal springs I took a bit of a fall. And while it didn't seem like much of a tumble, I ended up dislocating and breaking my ankle and breaking my leg. Not the ideal way to end a trip more than 2,000 miles from home. But during the next few hours I could not have imagined a more helpful, supportive, and encouraging group of strangers. Strangers who were also at the thermal springs and who instantly rallied around my disfigured leg with a mix of concern, calmness, humor, and a keen resolve to get me from this remote place safely to the nearest hospital. Strangers who quickly came together to elevate my leg and my spirits, build a perfect splint, locate the nearest emergency transportation, and then help the EMTs to carry me up from the bottom of the canyon. Strangers who distracted me with their questions, stories, jokes, and optimism during the two and a half hours before the ambulance could get near us. And through it all, strangers whose kindness and passion for the word "eh" was a great source of comfort…even at the moment when one of them turned to me an said: "Dude, do you mind if we cover your leg up? It looks kind of disgusting, eh!"
We never know what we'll find when we set out to explore the world around us.
Sometimes it is an idea that inspires new possibilities.
Other times it is a group of strangers who inspire us to see the upside of an accident and the real genius and compassion of others.
And always it is a chance to see ourselves in a different light.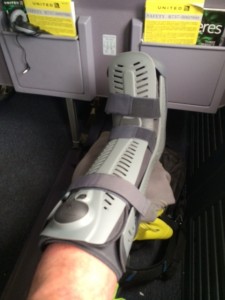 We win in business and in life when we never stop exploring the world around. And when we use a bit more caution when climbing on rocks.
Cheers and thanks to new friends I hope to see again some day soon!