Greetings. Many of you know that I'm a big fan of the Container Store, a company that has built a remarkable business and a powerful brand by helping all of us to be better organized. It's a company with thoughtful and energized employees, attractive stores, and a wide range of products all intended to enable us to get our "stuff" under control. They even have simple and user-friendly storage design tools that take the guesswork out of planning. And also being a big fan of the late comedian George Carlin, who was a passionate and humorous commentator on the notion that all of us in America have way too much stuff, I am continually amused (and even frustrated) by the role that stuff plays in our lives.
But I'm also impressed with how passionate the employees of the Container Store are about their mission and how much the company seems to love and value its employees. In fact, it places employees first in all of its decisions and actions…believing that happy, engaged, and empowered employees are the best way to make customers happy. And this approach raises an important issue…
Who should come first in all of our businesses…customers or employees?
For a while, the popular notion was that organizations placing customers first were more likely to be successful. After all, customers are our raison d'etre. But companies like the Container Store, which win high marks for being great places to work, are making a powerful case that hiring, supporting, and inspiring the right employees is the best way to deliver a great customer experience. And it seems to make a lot of sense, because all too often businesses claim to care about customers but treat their own employees with so little regard that even the most customer-centric ones are challenged to keep doing the right thing continually.
In an era when the average tenure of a new hire is less than a year according to Fast Company magazine the experience of the Container Store, and other businesses like it, should challenge all of us to make sure that we are finding and nurturing the very best team members as the best way to ensure that we are building the very best customer relationships.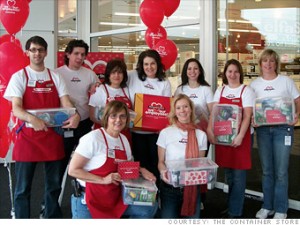 We win in business and in life when we hold our own people in the highest regard. And when we give them the encouragement and tools to bring real magic and even a bit of organization to the customers we have the privilege to serve.
Cheers!