Greetings. We often think about libraries as very quiet places for contemplation, exploration, discovering new ideas and new possibilities, and sparking our true imaginations. But what if we also think of them as places where loud and dramatic learning comes alive as it literally jumps out of the pages of a new or classic book?
Such was the case at the Parkway Central Library in Philadelphia this past Saturday when the DancePhiladelphia Argentine Tango group led a series of "pop-up" performances throughout the library tied to the publication of Carolyn Merritt's book Tango Nuevo. And in the process a building filled with people of all ages and backgrounds received a wonderful lesson in the magic and passion of the tango (a dance that had its origins in mid-19th century working-class neighborhoods in Buenos Aires)…and a wonderful reminder of the joy of learning and the power of the unexpected.
All of which suggests two very simple questions:
1. "How well do we make learning come alive in our companies and organizations?"
And,
2. "How do we make our most important written documents (i.e., our visions, strategies, and even websites and blogs) as passionate and engaging as a tango?"
Because if we can't figure out how to bring learning and purpose to life for our employees and customers, we will never get them to lift their heads, really take notice, and achieve the level of commitment and collaboration needed to do remarkable things.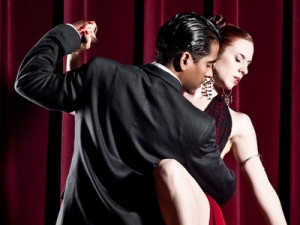 We win in business and in life when we make learning come alive. And when we realize that we all have the potential to dance with great energy and purpose.
Cheers!