Greetings.  Who would have ever imagined that one of the world's most renowned and "high-end" hotel companies would decide to offer its guests fast food?  Not fast food like McDonald's, Burger King, KFC, or Taco Bell, but "fast" food nonetheless.  Well that is exactly what the Four Seasons Hotels & Resorts are doing in all ninety of their properties around the world.  Offering their guests special locally-inspired room service menus with food they can have in a mere fifteen minutes…which is super-fast by luxury standards.
And here are a few examples of meals that guests can order and have delivered in only fifteen minutes…all of which sound slightly more appetizing than a Big Mac, a Whopper, a Crunch Wrap Burrito, or a bucket of slightly-crispy and slightly-greasy wings:
At the Four Seasons Maldives resort, guests can quickly enjoy chilled shrimp with Marie Rose sauce, Arabian spinach pastries, and handmade chocolate truffles.
At the Four Seasons in Bali, guests can hastily taste curried prawns.
At the Four Seasons in Hong Kong, guests can rapidly dive into a bowl of wonton noodle soup with fresh greens or burrata cheese and heirloom tomatoes on a freshly-baked baguette.
At the Four Seasons in Budapest, guests can speed to a wonderful bowl of traditional Hungarian goulash along with their favorite beverage.
And, as an encore, they are also offering fifteen-minute "to go" menus for those guests heading out to town or the airport.
It turns out that "fast" matters to a lot of people.  And not just to adults on the go at their local drive-through, or twelve-year-olds craving calories after a basketball game.  It turns out that fewer and fewer people have the time to wait for food, service, or even a new web page to open.  We are, sadly one might suggest, increasingly driven by the need for speed.  And all of the companies that understand this and are willing to offer faster alternatives are more likely to win.  Or more likely to be viewed as responsive by their customers.
So here's your challenge.  Take a lesson from the new world of fast food and try to imagine those areas of your business in which speed really matters.  The answers might surprise and delight you and those you have the privilege to serve.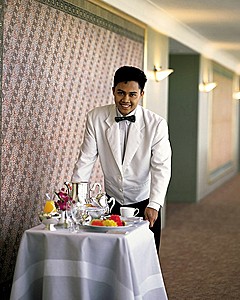 We win in business and in life by being fast when it matters.  And by taking the right page from the same fast food restaurants we love to criticize.
Cheers and have a great weekend!